The latest Climate Prediction Center/NCEP/NWS advisory is out, and it looks like we are heading towards El Niño – this time with much greater certainty!
Last year, it was possible to watch a warm disturbance in the tropical Pacific thermocline move from west to east. As it approached the east, I thought it would initiate an El Niño. Nope.
This year, however, SST anomalies are pretty high, and though it is notoriously difficult to predict ENSO during the spring, conditions seem ripe for some eastern Pacific warming.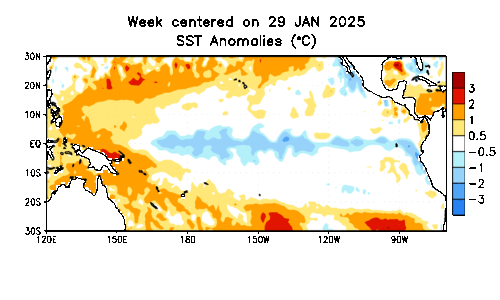 If this El Niño can bring some relief to the drought-stricken areas of the Western US, that may not be a bad thing – although there was a significant amount of flooding and landslide damage from the '98 event. Of course, how this whole thing interacts with the negative PDO and with the warm blob off the Pacific Northwest remains to be seen.
Image and El Niño data from the National Climate Prediction Center.
Chris Farley Saturday Night Live El Niño video from YouTube user Christopher Farr.