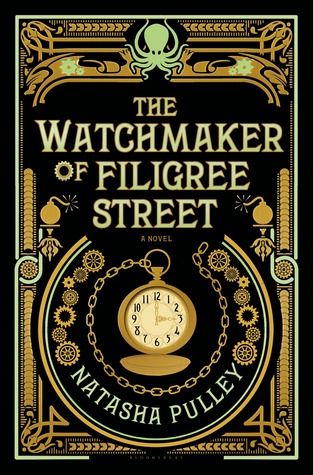 The Watchmaker of Filigree Street was, simply put, an amazing book. It was filled with beautiful creations, complicated people, and an intricate plot that tied them all together in surprising ways.
I'm a big fan of historical fiction, and I enjoyed the ways that Natasha Pulley included cultural touch-points of late 19th-century London and Japan, while also clearly writing for 21st-century readers. It seems almost obvious that Gilbert and Sullivan should find themselves in the middle of the story, doing research for The Mikato at the Japanese exhibition village set up in London, and that one of the main characters should spend a good deal of time at one of the cafes in that village. Perhaps a little less obvious is a young woman hoping for an academic career who wants nothing to do with women's suffrage, but very much wants freedom from familial obligations. And then, of course, there's a watchmaker who creates a clockwork octopus so complex and advanced that it seems almost real, and who unexpectedly but very logically… Well, no, I guess I can't tell you about that, because it would spoil the fun.
So now, I can't wait to read her next book.
**Full disclosure: I received a copy of this book from an associate editor at Bloomsbury after interviewing for an internship. As soon as I started reading, I felt that this editor must have spent years honing the craft of picking just the right book for someone she had only spoken with for a short time. The interview went really well, too, and I recently started working as an intern for this editor with book recommendation superpowers.**